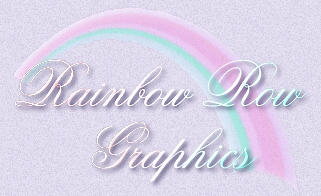 Hello, and welcome to Rainbow Row Graphics.
I hope that you enjoy your visit, and that you'll find something of interest to you here.
All I ask in return for the use of my work is that you provide a link back to this site with each set used.
Please be sure to read and abide by the terms of use posted with each set.
I love to see who's visiting me, so please take a moment to sign my guestbook.
Thanks so much for stopping by! Please come again soon.

COMPLETE WEBSETS

PSP TUBES
Please feel free to use these however you wish. Since I drew them myself,
there is no problem with copyright. A link is always appreciated, but not required.

Memberships & Causes
Please take a moment to visit these wonderful sites.




Many thanks to Kathi for the PSP brush and tutorial used in this set.